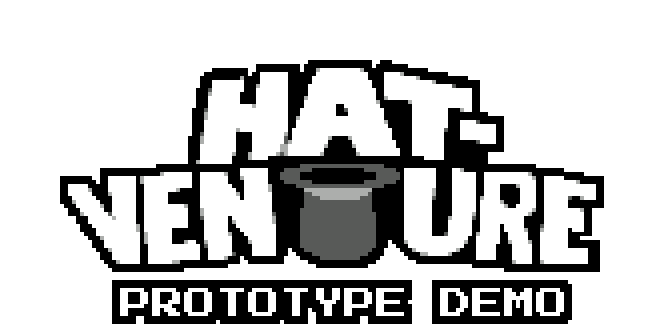 Hat-Venture - A Fan-Made AHiT Demake (Demo)
A downloadable game for Windows
- "Hat Kid's back, in one less dimension! When the mysterious and "radical" overlord Timmy steals the Time Pieces--hourglasses that allow time travel--it's up to Hat Kid to get them back! Use your wits, dive, and hats to explore the lands and get those Time Pieces back!"


Hat-Venture was a concept I thought up back in 2020, eventually deciding to work on it as a full project with friends. However, as time went on we realized we could not continue development as planned, and decided to release the demo we had initially created for the world to enjoy.

This build contains 2 levels, one boss, and plenty of collectibles in hidden areas. Players can select from a variety of palettes they find by collecting scrolls in-game. In the suggested full version, there would've been up to 7 worlds, more palettes as well as hundreds of other different collectibles, and post-game content such as secret Time Rifts or challenge areas.

As this game was made in Godot, players are free to edit and make their own content for the game, as long as they share the same license, i.e. credit the original prototype with a link and release the game for free with no donations. (If you are planning on releasing something commercially, you'll probably want to contact both Gears for Breakfast AND us first).
We hope you enjoy this small demo, and we can't wait to see what the fans make from the game!
NOTE: The following build is a prototype, and many things, such as sound effects and art, are considered to be placeholder. We hope you understand and accept the game in the state it's in. Thanks so much!

VIEW THE GAME ON GITHUB!
https://github.com/kingoftheconnors/Hat-venture

CONTROLS:
Left/Right - Move
Down - Crouch
Z - Jump
X - Dive/Bash
C - Drop Hat
Esc - Menu
CREDITS:
Download
Download
Hat-venture _Demobuild.zip
27 MB
Comments
Log in with itch.io to leave a comment.
a rather surprisingly well-designed platformer reminiscent of mario's better parts, in particular i've enjoyed how naturally it eases the player into discovering secrets and learning how power-ups work. of course, this is a demo, but it definitely has a potential that i will surely love to see developed. keep up the good work!
Absolutely everything about this is just delightful! The dialogue, the art, the music, the gameplay--it's all just very fun!! Especially like the smaller cute details, like losing a bit of life during a cutscene, and the smaller little facial expressions :) Waiting with bated breath for this game's future!! (<- oh my god i didn't read the full desc i just rushed to the downloads and missed the part about how development wouldn't continue as planned that is 100% my bad)

i died once by accidentally falling into a pit so you KNOW it's good